TiledLink - An automation tool between Tiled and Gdevelop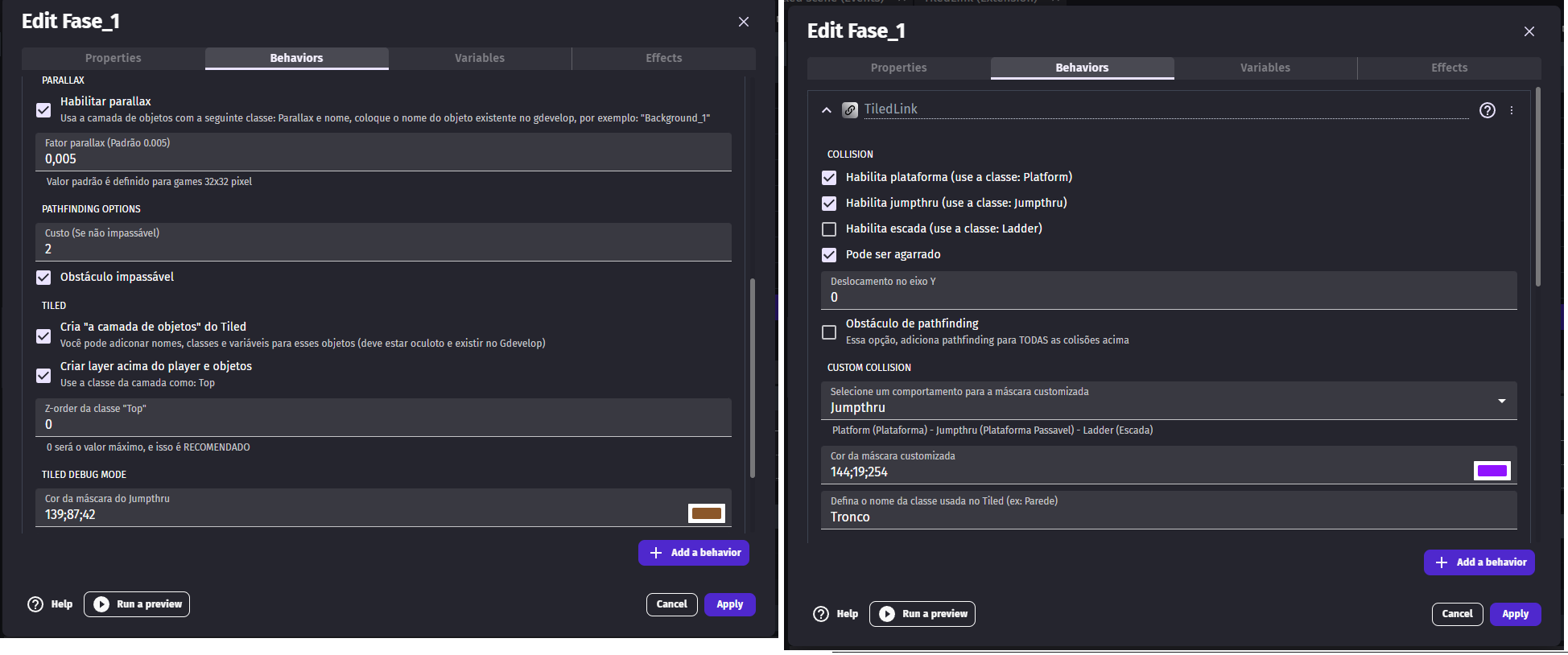 DESCRIÇÃO EM PORTUGUÊS
O QUE É O TILEDLINK?
TiledLink é uma ferramenta de interação completa do Tiled com o Gdevelop.
O QUE O TILEDLINK FAZ?
A ferramenta faz praticamente tudo se tornar editável, criado e customizado pelo próprio Tiled, sem a necessidade de interação com o Gdevelop. Claro, que não é tudo, mas uma boa parte pode ser feito por ele.
COMO FUNCIONA?
Antes de iniciar, algumas opções estão em INGLÊS, mas nada difícil de entender, algumas coisas tem descrição abaixo.
Ok! Vamos a prática. Eu preparei um Game-Tutorial para que vocês possam ver como é fácil utilizar a ferramenta e consequentemente usa-la como deve ser usada (você pode baixar nos links abaixo).
O que precisamos saber é que essa ferramenta somente funciona com Tilemap (objetos avançados do gdevelop), quando você cria esse objeto, você coloca toda a estrutura da sua fase
como o próprio .json gerado pelo tiled. Há um tutorial sobre isso oficialmente na wiki do Gdevelop. Então, no comportamento do Tilemap depois que você adiciona a extensão no Gdevelop, poderá seleciona o comportamento no objeto Tilemap. Sabendo disso, vamos conhecer as opções. E Lembrando, tudo que está descrito aqui, está no exemplo baixavel aqui na página.
COLLISIONS:
Aqui você vai poder habilitar qual o tipo de colisão seu TILEMAP vai ter, se vai possui o tipo plataforma, o Jumpthu (plataformas passáveis debaixo para cima) e a escada, você poderá habilitar todos caso seu TILEMAP possua esses comportamentos. Mas antes disso funcionar, você DEVE criar as colisões dentro do TILED, usando nomes e/ou classes que são pedidas no comportamento:
Plataforma : Platform
Jumpthru : Jumpthru
Escada : Ladder
Após isso, você é obrigado a criar um TilemapMask como objeto, não precisa renomear, e não precisa adicionar na sua cena. Apenas crie e pronto!
Com isso, se você fez tudo certo, as colisões serão criadas sem a necessidade de ter que arrastar todas as colisões (TilemapMask) para dentro da sua cena.
ATENÇÃO: você NÃO precisa criar vários TilemapMask e poluir seu projeto, apenas um é requerido pelo GDevelop, e também não precisa configurar nada dentro do objeto, ele será configurado automaticamente e puxado para cena pela própria extensão.
CUSTOM COLLISION:
A colisão customizada, nada mais é que uma colisão na qual você digita o nome da sua colisão, e adiciona manualmente no TILED, por exemplo, O TiledLink vem padronizado com 3 que são:
Você pode adicionar uma chamada "Fire" e ele vai gerar de acordo com o nome colocado.
PATHFINDING:
Ainda não funciona no Gdevelop com o TilemapMask por algum motivo, mas está ai para ser usado caso futuramente tenha suporte.
Essa opção possui uma ação, que deve ser inciado com o game, Isso é qu evai fazer a extensão saber com quais objetos o PATHFINDING colidir. Escolher a ação procurando por: TiledLink > Obstacles for TilemapMask > Objeto que fará a colisão com o pathfinding.
Criar layer de objetos do Tiled:
Essa é uma das opções mais legais que essa ferramenta proporciona, que é a criação de objetos pelo Tiled. Através do Tiled, você pode criar uma camada de OBJETOS e nele colocar tantos objetos que deseja, cada objeto possui um nome e uma classe. Quando você cria um objeto nessa camada, você pode colocar um nome ou classe que será o mesmo nome do objeto usado no GDEVELOP, ou seja, quando criar esse objetos, o GDEVELOP vai reconhecer e vai criar automaticamente os objetos conforme os nomes colocados no Tiled. Você também pode colocar variáveis nesses objetos, essas variáveis não precisam existir no Gdevelop ou nos objetos, ao serem colocados no Tiled, automaticamente será gerado no Gdevelop.
Criar Layer acima do Herói ou Objetos:
Isso serve para que por exemplo, seu heróis ou objetos passem por baixo de certas camadas geradas pelo Tiled. As camadas que por exemplo, você quer que fique acima do seu Objeto deve conter a classe Top, apenas isso! E claro, deve ser habilitado no Comportamento da extensão.
PARALLAX:
Essa é, se não e melhor, opção dessa extensão, ela gera automaticamente o seu parallax sem precisar arrastar para o gdevelop e instalar qualquer outra extensão para isso.
Recomendo você baixar o meu tutorial aqui para ver como funciona. Logicamente o Parallax usado, deve ser do tamanho da tela do seu game, caso contrário, pode não funcionar como você deseja!
Bom, a explicação foi longa, mas nada melhor que pegar o exemplo, baixar e testar certo? Então, está esperando o que? Baixe e me diga se gostou!
ENGLISH DESCRIPTION (Google translator, sorry)
What is TiledLink?
TiledLink is a complete interaction tool for Tiled with Gdevelop.
What does TiledLink do?
The tool makes virtually everything editable, created and customized by Tiled itself, without the need for interaction with Gdevelop. Of course, that's not all, but a good part can be done for him.
How it works?
Before starting, some options are in ENGLISH, but nothing difficult to understand, some things are described below.
OK! Let's practice. I prepare a Game-Tutorial so that you can see how easy it is to use the tool and consequently use it as it should be used (you can download it from the links below).
What you need to know is that this tool only works with Tilemap (advanced gdevelop objects), when you create this object, you put all the structure of your phase
like the .json itself generated by tiled. There is a tutorial about this officially on the Gdevelop wiki. So in the Tilemap behavior after you add an extension in Gdevelop, you can select the behavior in the Tilemap object. Knowing this, let's get to know the options. And remembering, everything described here is in the downloadable example here on the page.
COLLISIONS:
Here you will be able to enable which type of collision your TILEMAP will have, if it will have the platform type, the Jumpthu (passable platforms from bottom to top) and the ladder, you will be able to enable all of them if your TILEMAP had these behaviors. But before that works, you MUST create the collisions inside the TILED, using names and/or classes that are asked for in the behavior:
platform: platform
Jumpthru: Jumpthru
Staircase: Staircase
After that, you are required to create a TilemapMask as an object, you don't need to rename it, and you don't need to add it to your scene. Just cry and that's it!
With that, if you did everything right, the collisions will be created without the need to drag all the collisions (TilemapMask) into your scene.
CUSTOM COLLISION:
The custom collision is nothing more than a collision in which you type the name of your collision, and manually add it to the TILED, for example, TiledLink comes to confuse with 3 that are:
You can add a call "Fire" and it will generate according to the given name.
PATHFINDING
It still doesn't work in Gdevelop with TilemapMask for some reason, but it's there to use if it's supported in the future.
This option has an action, which must be started with the game, when choosing the action TiledLink > Obstacles for TilemapMask > Object that will cause the collision with the pathfinding.
Create layer of Tiled objects:
This is one of the coolest options that this tool provides, which is the creation of objects by Tiled. Through Tiled, you can create a layer of OBJECTS and place as many objects as you want on it, each object has a name and a class. When you create an object on this layer, you can put a name or class that will be the same name as the object used in GDEVELOP, that is, when creating these objects, GDEVELOP will automatically recognize and create objects according to the names placed in Tiled . You can also place variables in these objects, these variables do not need to exist in Gdevelop or in objects, when placed in Tiled, they will be automatically generated in Gdevelop.
Create Layer above Hero or Objects:
This is so that, for example, your heroes or objects pass under certain certificates by Tiled. The classes that, for example, you want to be above your Object must contain the Top class, that's all! Of course, it must be enabled in the Extension's Behavior.
PARALLAX:
This is, if not the best, option for this extension, it automatically generates its parallax without having to drag it to gdevelop and install any other extension for it.
I recommend that you download my tutorial here to see how it works. Logically, the Parallax used must be the size of your game's screen, otherwise it may not work as you want!
Well, the explanation was long, but nothing better than taking the example, downloading and testing it right? So, what are you waiting for? Download and tell me if you like it!
Download
Click download now to get access to the following files:
tiledlink - PT_Br.rar
7 kB